Part 1
by Jason Smith
I knew I was sunk as soon as my wife brought it up. No way this was not going to happen.
We'd been contemplating bringing a new dog into the house – Ginny was just about to turn three years old – but the prospect of training and housebreaking a pup was about as appealing as stepping into what a non-trained and non-housebroken pup leaves you to find with your bare feet in the middle of the night. (And don't even pretend like it's never happened to you.) We had looked into a rescue the year before and were really close, but some changing events at our house prevented the adoption.
So my wife, in the here-and-there bits of her spare time, went to work researching "things," and proffered her idea – and coupled it with the same smile and twinkle in her eyes that made me fall in love with her nearly twenty years ago.
Like I said…
And that's how Cici, a three-year-old yellow Labrador from Leader Dogs for the Blind, came to join the Smith household.
Most people, I'm sure, are familiar with the necessity of service dog organizations such as Leader Dogs for the Blind (LDB) to foster out their adolescent dogs, individually, to "puppy-raisers." These families socialize and provide basic obedience training, usually for around a year, prior to the dog's return to the clinic for formalized training in their service role. Cici, however, is different in that she is an LDB "mom," part of the breeding stock. LDB has a program in which the breeders – females and males – are fostered out to "host homes." She's not a Leader Dog herself, but she's responsible for producing tomorrow's leaders.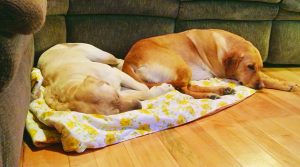 In my May/June 2014 Editorial, I talked about the day we picked up Cici from the LDB facility. One of two Labs we were able to "interview," Cici instantly wormed her way into our hearts and, most especially, the kids' hearts. And Ginny's. That first night home, she and her new "sister" fell asleep together in front of the fire on the same blanket, back to back, snoring away after a full evening of exploring and playing in the house.
The non-profit Leader Dogs for the Blind was founded in 1939 in Rochester Hills, Michigan, and is one of the oldest – and largest – service dog organizations in the country. Rachelle Kniffen, Director of Communications, says that an "average of 200 dogs per year [are paired] with people who are blind or deaf-blind." These are usually all Labrador retrievers, golden retrievers, and German shepherds.
This magazine has carried a multitude of service dog articles over the years, focusing on organizations; unique, individual Labs and their partners; and, usually, what is involved in training these remarkable animals. We've also talked about that first training step, the puppy-raiser step, in which candidate dogs are given their start in a foster home and where the making of a future guide dog begins. LDB is no different.
"Once a litter of puppies is returned to our facility, they are sent to individual volunteer puppy-raiser homes until they are fourteen months of age," says Stacey Booms, LDB Breeding Specialist. "During this time, the puppy-raiser teaches the puppy obedience and self-control. The puppies are exposed to a variety of situations including schools, restaurants, churches, theatres, stores, different forms of transportation, and require a lot of socialization." You've probably seen these squirts out and about, cute-as-can-be Lab pups sporting a colorful bandana with the words "Future Leader Dog" or some such on them. Most service-dog organizations have a program such as this, as it makes sense economically for the organization and developmentally for the pup to be raised in a home and experience, right from the start, the sorts of environments they will see on their everyday jobs.
"Puppy raisers report to volunteer puppy counselors about specific goals that the puppies must meet for each period during their growth," Booms continues. "They also are required to fill out questionnaires on a regular basis so we can monitor the progress of each puppy to ensure its greatest chance for success. We have a large network of support to help our raisers fulfill such a great and wonderful commitment."
Once pups reach the age to be returned to the facility, they are tested to see if they are candidates to go on to formalized training for their specialized service. If they aren't, the puppy-raiser is given the option of adopting; homes are found for all dogs that do not make the cut.
That's sort of a metaphorical "making of a future Leader Dog" phase. But first there's the literal "making." And that's where we find ourselves with Cici.
Cici is an absolute sweetheart. She's The Wiggler in the house, constantly wagging and wiggling her rear-end whenever you make eye contact, and she must-must-must be holding a toy. In fact, I am convinced that she is totally incapable of greeting someone unless she has a toy in her mouth.
She's thrilled to be in a home, and LDB believes that can only have a positive impact on her pups. "Housing the females at our facility would make some aspects easier for us," says Samantha Ziegenmeyer, Breeding Program Manager, "but we don't believe the end result would be as good. Each breeding female gets to spend 24/7 with her host family.
They have a home with many rooms, textures, sights, sounds, and smells. When you institutionalize a program like this, the environment becomes very sterile; it takes a tremendous amount of resources, space, and manpower to create the enrichment that is available naturally in someone's home."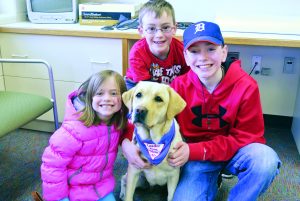 But how is one dog picked to be a Leader Dog, and another picked to produce other Leader Dogs? "Every dog in our program has the potential to become part of our breeding program," says Ziegenmeyer. "We actively deselect dogs as they go through the puppy raising process and enter into our formal training program. We base our selection on information from our puppy raisers, the dog's health, an evaluation by one of our guide dog mobility instructors, as well as our history of the dog's genetic lines. We use expected progeny differences – a way to measure traits using all of the known relationships within our colony – to help find the dogs most likely to reduce health concerns."
That concern over the dog's health – genetic health, and the reliability of passing on those sound genes to the offspring – is key: "We test for exercise induced collapse [EIC] and progressive retinal atrophy [PRA], and we get cardiologist and ophthalmologist clearances as well as hip and elbow X-rays to Orthopedic Foundation for Animals [OFA]," says Ziegenmeyer. "All dogs entering our program need to pass these health screens. We hold our working dogs to a high standard of health, and our breeding program to a slightly higher standard."
Cici likes to rub it in to Ginny that she's highly intelligent and genetically superior.
When the breeders have been selected, that's when Breeding Specialist Booms comes in. Booms met with us on a cold but sunny March day, and as soon as Cici walked in the door, our decision was made.
The number of pegs on Booms's hat rack are incredible, and it gives great insight into the depth of the LDB breeding program as a whole. "My duties include the breeding, of course, as well as all of the timing tests that lead up to breeding to pinpoint ovulation and due dates. I keep track of the health of all the breeding stock dogs – keeping them up to date on vaccines, making sure the dogs have the proper testing required to breed, such as thyroid profiles, EIC, PRA, etc. I'm also responsible for interviewing and placing all of the new breeding stock dogs into host homes."
Booms's responsibilities don't stop there. In addition to helping pair up breeder host homes with mentors who have previously gone through or are still in the breeding stock host program – "in-the-field" help – Booms is always monitoring the status of LDB breeders. "I'll perform ultrasounds to confirm pregnancy and X-rays to count puppies; provide information and support with regard to the whelp and all of the procedures to follow around that time; and support – together with the mentors – during the six weeks that the litters are in the host homes. I freeze stud dog semen for future use; perform puppy exams when they come in at six weeks, including worming, vaccinating, and microchiping; and help give informational speeches during host home quarterly meetings." She also mans her own version of a "help desk" for families such as ours. "I am the contact person for boarding the breeding stock dogs [if the host family is going out of town for an extended time, LDB likes to board the dog at their facility]; and am the point of contact if any of the host families have questions or issues about the health and welfare of their breeding stock dog." As you can imagine, it's been quite an e-mail trail between her and us over the last several months.
LDB moms will produce four litters, consecutively, between the ages of 18 months and three-and-a-half years. "Our dogs typically come into season every six to eight months," says Booms. So about two litters a year for two consecutive years. (Cici is on an older schedule, so her career is a bit more drawn out; she has already had two litters.) After they are retired, "LDB will spay or neuter the breeding stock dog, update any needed vaccines, and offer the host home the opportunity to adopt the dog as their own. Until a dog is retired, it is owned by LDB."
Now, where the whelping-box-hits-the-floor, so to speak, is where we come in, and it's different for the homes hosting a female or a male, of course. Quite a job description for us: "The host family is responsible for welcoming our dog into their home as a pet. They keep the dog in good physical condition and safe at all times – meaning the dog is on a leash at all times, unless in an enclosed area," says Booms. "If the family hosts a female breeding stock dog, they are responsible for transportation to and from the facility for breeding, two pregnancy checks, and to return the litters at six-and-a-half weeks. LDB provides all veterinary care during the dog's breeding career as long as the dog is brought to our facility for care.
"The female home is also responsible to be present for the whelping of the puppies, the day-to-day care of the puppies, including daily weigh-ins, neurological stimulation, and the puppy's first exposure to socialization. If the family chooses to host a male dog, they are also responsible for keeping the dog physically fit and safe – on leash or in an enclosed space – and for trips to LDB for breeding, as well as several times to have their semen frozen for future use. They need to be ready at a moment's notice to bring the stud in for breeding, so living within four hours of the facility is a must. The stud dogs have a longer career; they can breed for up to ten years."
It doesn't end, though, after the litter is returned to LDB at six-and-a-half weeks, and it's something that the entire family is looking forward to. "When the entire litter has moved to its permanent placement," says Ziegenmeyer, "we send a letter to the hosts with photos of the graduates and an explanation of what happened with each litter."
People have asked us if we'll be able to let the pups go after being there for their very first moments of life. Booms told us, "Oh yeah… you'll be ready. And Cici will, too." But I think that knowing we helped a gaggle of tomorrow's Leader Dogs begin a career of providing such a valuable, life-changing service to someone who needs it will dull any sting at seeing the little furballs leave.
That and knowing that Cici will still be carrying toys around the Smith house for many years to come.
Early August, Cici had meshed into our home as perfectly as if we had raised her from a pup. But by late summer, her playtimes with Ginny didn't last as long, and her wiggling rear end wasn't quite as forceful. Her lead pipe of a tail could still clear a coffee table, but most often, sleep, sleep, and more sleep.
Then, the first spots.
Cici and I took the four-hour drive to the LDB facility together on an early Saturday morning, leaving behind a lot of mopey faces in the window – three human ones, and one Labrador one. But not all Leader Dogs lead someone, and it was time for Cici to fulfill her role. After an uneventful drive, I waited in the lobby for someone to take her back to her kennel.
She plopped down on the floor, and when I handed the leash over, she wouldn't budge. She shot me the dirtiest, most spiteful look I have ever seen cross a canine's face. But with a huff, she rose and followed.
Two weeks later, my wife picked her up, and the wiggling hasn't stopped. There's just a little more of her to wiggle. And more each day.