By Mary Schwager
Last fall in south Texas, a gorgeous yellow Lab sat in an animal shelter, waiting for someone to save him while the clock ticked on his life.
In Austin, 300 miles away, a photo of the dog staring out from behind his kennel bars caught the attention of a woman who volunteered for a Lab rescue group.
And in Iraq, 7,000 miles away, that woman's fiance, a deployed first lieutenant U.S. Army infantry officer had no idea all their lives were about to change forever.
"He looked so sad, but still had so much hope in his eyes," Marissa Weisenburger told Just Labs.
Weisenburger fosters for Lucky Lab Rescue and Adoption. The nonprofit group was trying to save the dog from being euthanized at the shelter, but they needed a temporary home. She immediately volunteered.
"It was love at first sight," Weisenburger said."I knew that we could be a great fit for him."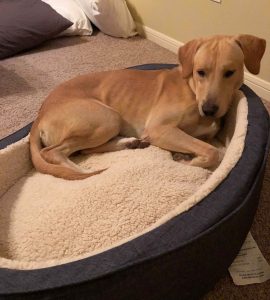 Since Weisenburger's fiance was stationed in Iraq, she thought the Lab would be a great companion. Her own Lab, Ranger, was also ready for a buddy. "He looked like the perfect match," she said.
The rescue was overjoyed to hear Weisenburger wanted to foster. The group doesn't have a shelter, so they rely on fosters to help care for the dogs while they are vetted and readied for adoption.
"Some dogs we save have no one to care about their well-being or know that they know love," Michelle Flynn from Lucky Lab Rescue and Adoption, told Just Labs. "Some have been abandoned, some have been abused, some have never known a human's touch."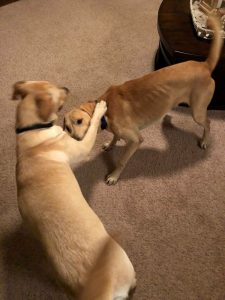 When the Lab arrived in Austin, Weisenburger and Ranger instantly connected with him.
Weisenburger named him Henry and warned her fiance he may be staying with them forever. "He was the sweetest boy and seemed so grateful to be in a loving home," she said.
As Henry settled in, Weisenburger noticed he did not seem to be feeling well. The rescue had her bring him to the vet, and they got some bad news: He was very ill with two tick-borne illnesses, Lyme and Babesia. Both were treatable, but he needed many medications and time to recover.
Weisenburger nursed Henry back to health over the next couple of months. She was thrilled to watch him heal and progress.
"He really grew into his own little personality," she said.
"The first few days, he was very food aggressive and wouldn't share anything with Ranger. Once he realized he was going to get food on a consistent basis, that all changed. He learned about toys, walks, and couches. He now loves walks and loves the couch."
Weisenburger just knew Henry was meant to be part of their family. So she took a leap of faith and made an announcement to her fiance, who had never met the dog.
"I told him that this dog was the absolute perfect match for us and we were keeping him and that was that," she said.
Lucky Lab Rescue volunteers were thrilled. "It just made me grin from ear to ear," Flynn said.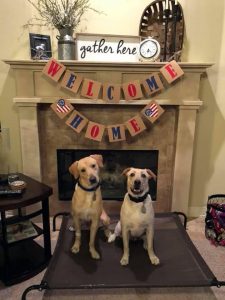 The day Weisenburger's fiance finally came home, she rolled out a Lab-filled welcome for the occasion. Turns out the happiest homecoming participant may have been Henry.
"He clung to me right away. We had a connection from the second we met," Dirk Weisenburger, Marissa's fiance, told Just Labs.
In May, the couple made a brave decision to have two food-motivated, energetic Labs join them in saying "I do" at their wedding.
"Everyone thought that I was nuts, but Henry and Ranger were my lifelines while Dirk was gone on deployment. I was not getting married without them," Marissa Weisenburger said.
Having the pooches at the wedding turned out to be a great success. The dogs stole the show.
Now the foursome is living happily ever after. Henry could not be more excited to have a new dad.
"Henry and Dirk have the same personality. Henry is a little more laid back and carefree, just like Dirk. In fact, Henry kind of turned into Dirk's dog after he got home. They really bonded. Henry follows Dirk everywhere," Marissa Weisenburger said.
And though Dirk was 7,000 miles away when his fiance said "yes" to saving and adopting Henry, he said it all turned out perfectly. "We are loving life with our two boys. Dogs win in our house. They're our owners, something we joke about all the time, but we do love our two."
If you'd like to foster a Lab, there's probably a rescue in your state who would love to hear from you. If you'd like to help Lucky Lab Rescue and Adoption by fostering, adopting, or donating, go to luckylabrescue.com.
Mary Schwager, aka WatchdogMary, is a TV and print journalist now watchdogging for animals. She is honored to have won 16 Emmys, 8 Edward R. Murrows, and Associated Press awards for investigative reporting and writing. She loves tips, so send your story ideas to watchdogmary.com.