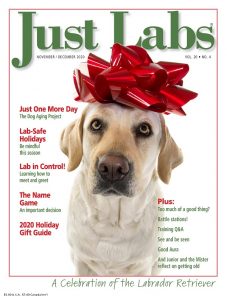 Just One More Day
The Dog Aging Project.
By Paula Piatt
The Name Game
One of our most important decisions.
By E. Donnall Thomas Jr.
See and Be Seen
Nighttime walks.
By Tom Goldsmith
Lab-Safe Holiday
Be mindful this season.
By Hailey Hudson
Why Labs Do That
"Stand by your man."
By Tom Davis
Lab In Control!
The path toward self-control.
By Sue Alexander
The Vet Clinic
Battle stations!
By Dr. Ben J. Character
Subscriber Photos
2020 Holiday Gift Guide
In Tribute
In Their Debt
Good Aura.
By Jen Reeder
The World According to Junior
On getting older, with Junior and the Mister.