In Tribute – Honor your Lab by submitting yours!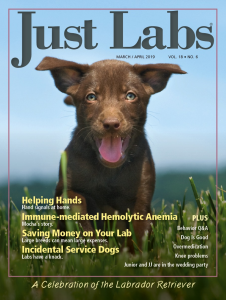 Helping Hands
Hand signals can be useful at home.
By Don Thomas
Immune-mediated Hemolytic Anemia
Mocha's story.
By Andrea Dorn
Citizen Lab
Behavior Q&A.
By Amy Dahl
In Their Debt
Dog Is Good.
By Jen Reeder
The Vet Clinic
Overmedication.
By Dr. Ben Character
Click!
A helping hand.
By Chip Laughton
Subscriber Photos  – Submit your photo! 
Saving Money on Your Lab
A large breed dog can mean large expenses.
By Hailey Hudson
Moments
Photo by Matt Stich / Text by Jake Smith
Tough as Nails
Illustrations by Tom Goldsmith
Fun with Your Lab
On the trail: how to hike with your Lab.
By Sara Sheehy
Why Labs Do That
Knee problems.
By Tom Davis
Incidental Service Dogs
Labs have a knack.
By Sue Alexander
The World According to Junior
Junior and JJ are in the wedding party.
By Junior Watson