Just Labs 2018 Holiday Gift Guide
Swedencare ProDen PlaqueOff® Dental Bites
ProDen PlaqueOff® Dental Bites provides an easy complement to ordinary oral hygiene. Formulated with algae clinically proven to help support normal oral hygiene including: eliminate bad breath, fight plaque and keep tartar buildup at bay, improving your pet's oral hygiene. It's grain-free, gluten-free, soy-free, and contains 100 percent natural and sustainably harvested sea kelp, harvested along the North Atlantic coast. Available in 60g for small dogs and in 150gr format for large dogs. Recently approved by the Veterinary Oral Health Council to use their prestigious VOHC-seal. MSRP $9.99- $14.99
Pet Pail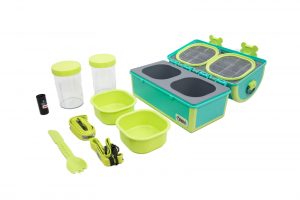 Never has anyone been able to carry food and water right in the bowls, keep raw food chilled, and have everything your pet needs in one organized container. My Pet Pail keeps all of your pets must haves in one place with built-in storage, an extra collar and leash, waste bags, two built-in bowls, two removable bowls, and two 20 oz. removal bottles – your pet is set for any adventure! My Pet Pail was designed with pet love in mind to be hassle free. Now, your travel feeder doubles as your home feeder! Simply snap off the upper shell and the lower bowl section becomes your slide proof at home feeding system. At Pet Partners, we want you to get the high quality products you deserve. That's why we offer all our customers a lifetime warranty on all products! Colors: Mint Green & Black, Teal &Yellow, Pink & Grey, Orange & Black MSRP: $89.99
Itchy Dog
Itchy Dog Skin, Coat, and Allergy Formula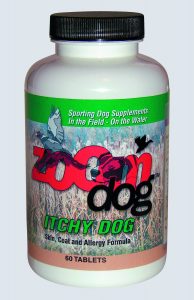 If just one of the following problems describes your dog, he or she may be suffering from allergies or other  skin problems.
licking excessively
red, irritated skin
dull coat
chewing on paws
dandruff
watery or crusty eyes
Hunting dogs work in harsh environments that can be hard on their skin and coats. Their special breeding can also make them more likely to have the problems listed above. The signs of developed allergies often show up within one to three years of exposure to allergens. Still, some dogs can show signs at just a few months of age. It depends on the breed and their genetic predisposition to allergies. High activity levels, while working, will also stress their bodies. Extra nutritional support is important if they are itchy. Itchy Dog® Skin, Coat and Allergy Formula is a supplement with natural plant extracts that have been shown to help improve the skin and coats of many dogs. MSRP: $14.99 for a 60-count bottle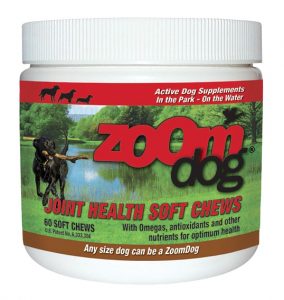 ZoomDog Joint Health Soft Chews
ZoomDog Joint Health Soft Chews were designed with every dog in mind. If your dog is large, small, active or more sedentary, ZoomDog Soft Chews will help your pet be their best. The nutrients in our soft chews may help to improve mobility or maintain optimal joint health in any dog. The chews also have other beneficial nutrients including vitamins and minerals to help keep your dog healthy and active. ZoomDog ingredients are thoroughly researched and the formulas specifically designed with your pet's well-being in mind. Formulated with glucosamine, chondroitin, collagen, polyphenol antioxidants, spirulina and other essential nutrients for joint health, these soft chews make a healthy, tasty supplement that your dog will look forward to every day. MSRP: $32.99 for a 60-count bottle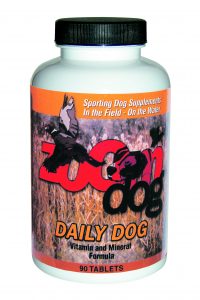 Daily Dog
Daily Dog is a daily dietary supplement designed to help your dog enjoy optimum health throughout its lifetime. Sporting and active dogs have a rigorous lifestyle. They may require extra nutrients to support a healthy immune system. A dog's body cannot adequately protect itself against infection when the immune system is weak. Sporting dogs may be exposed to many bacteria and viruses in the field, so a strong immune system is crucial. The 21 key vitamins, minerals, amino acids and antioxidants may also help support the immune system during vaccinations, especially in young dogs and puppies. Our ProStaff use Daily Dog for their breeding and nursing dogs. A new rescue dog can benefit from the extra nutritional support in Daily Dog. MSRP: $11.99 for a 90-count bottle
Use discount code "JustLabs20" for 20% off; expires January 21, 2019.
Note: Please check with your veterinarian prior to giving your Lab any health supplements.
Huggle Hounds
Looking for a toy to fill your Lab's stocking? HuggleHounds® Holiday 2018 Jewel-Toned Knotties® are made of lush, velveteen-like fabric and embroidered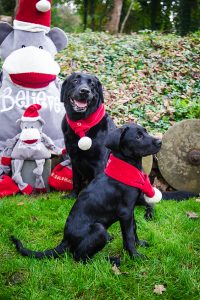 in holiday greetings of Merry, Believe and Jolly. The beautiful colors and detail belie just how tough these toys are. Knotties® are made with our exclusive Tuffut Technology® lining, a durable two-layer process making them the most durable plush toys available. Knots in the limbs for tugging and playing, and embellished with five squeakers(!).  The large size is about 15" long, 7" wide, and 5" deep. The small size is about 9" long, 4" wide, and 3" deep.  All HuggleHounds plush toys can be machine-washed over and over! MSRP: $19.99-$24.99
To dress your Lab in the colors of the season, HuggleHounds Holiday-themed dog scarves are made of lush, velveteen-like fabric and embroidered in white with warm holiday greetings that are sure to brighten anyone's day. The Merry scarf is small and fits neck sizes 10" to 14".  The medium-sized Jolly scarf fits neck sizes 14 to 18", and the Believe scarf is large, and fits neck sizes 18" to 25".  It's a great way to celebrate the season with Labs of every generation!MSRP:  $14.99-$19.99
Messy Mutts
The award-winning Travel Water Bottle and Bowl is perfect for walks, hikes, and road trips. The silicone bowl is attached to the bottle and folds down for easy portability. With a press of the quick release button the bowl can be opened and filled with water. Afterwards the unused water can be drained back into the bottle and the bowl folds back up against the stainless steel bottle. MSRP: $20
For sustenance to bring along on the journey, or just for an afternoon treat, create healthy, homemade treats for your dog with the Flexible Silicon Treat Maker. The tray has non-slip handles for easy carrying and is also freezer safe. "Innovative design manufactured to the highest standards is a hallmark of all Messy Mutt products," says Christopher Shipton, President. "These are gifts that you can be proud to give knowing that they are both functional and built to last." MSRP: $20
This Divine Pet Bed is lined with Everfresh®, a natural solution to help keep your home free from bad doggy odors. An overstuffed dog bed is also the perfect place for your messy mutt to chase their dreams. A beautiful addition to your living space, this bed is constructed using premium, heavy-duty upholstery that is removable for easy cleaning! The nonslip bottom keeps the bed in place for your lively dog. Snoozing at its finest! Durable fabric in brown or grey and in textures hand-selected to complement your home. Medium – 29 x 20.5 x 3.5 in; Large – 35.5 x 23.5 x 3.5 in; Extra Large – 40 x 26.75 x 3.5 in. MSRP:  $50-$100
Raymond Steel Works
Organize in style with these attractive and functional leash hooks from Syracuse artist Larry Raymond. Each image is made from a custom drawing and then precisely cut into steel and powdered coated. Functional art for a leash, your keys, a coat, or backpack, as well as quite a conversation piece! For Lab lovers, chocolate, black, or yellow leash hooks are available. MSRP: $30