by Jen Reeder
When Gretchen Evans was 46 years old, her life changed in an instant.
For 27 years, Evans had served in the United States Army in a variety of roles, including intelligence analyst, counterintelligence agent, and paratrooper, deploying to many combat zones. She rose to the rank of Command Sergeant Major, the highest non-commissioned officer rank in the Army.
On February 27, 2006, Evans headed to a remote forward operating base in eastern Afghanistan to visit her troops. "I had been on the ground less than ten minutes when the base started taking mortar fire. Rockets were coming in like rain," she recalled.
While yelling for the soldiers to protect themselves in bunkers, a rocket landed to her right, and the blast threw her headfirst into a bunker. Though wearing a flak vest and a Kevlar helmet, she was badly injured by the force of the impact.
After several days in a medically induced coma, she woke to a military doctor standing by her bed and holding a dry erase board that read: "You are deaf."
"I took the board from him and wrote, 'Forever?' And he nodded. I knew that moment that my cherished military career was finished," she said. "This was devastating to me. I had been in the military since I was nineteen… We were at war, and I wanted to be with my troops. I had no plan B."
After rehabilitation for a traumatic brain injury and deafness with both the Army and the Veterans Administration, Evans reentered civilian life. Looking for a new career and coping with disabilities was a difficult transition – as it is, Evans noted, for so many military veterans.
"I was at a very low point in my life, thinking I was never going to be able to find a new passion and purpose to fill the gap of my loss of my military career," she said. "I thought about suicide on occasion."
One day while out for a run, a bicyclist who didn't know Evans was deaf shouted, "Passing you on your left," but she couldn't hear the warning. He hit her, throwing her into traffic. She was nearly run over and needed treatment for severe road rash.
Fortunately, her audiologist asked if there are service dogs for deaf people. Evans didn't know, so she searched the Internet and found America's VetDogs, a national nonprofit that provides service dogs free of charge to wounded military veterans. After reading the mission statement – "To help those who have served our country honorably live with dignity and independence" – she emailed the organization to detail her injuries, including PTSD, and ask, "Can you help me?"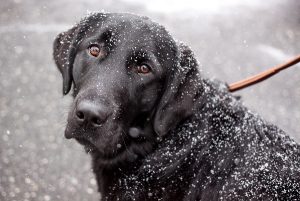 Less than 15 minutes later, she had her answer: "YES!"
In January 2015, her life changed again — this time, for the better. Evans traveled from her home in Atlanta to the America's VetDogs campus in Smithtown, New York, where she trained for two weeks with a hearing service dog named Aura. The spirited black Lab/golden retriever mix proved a perfect match.
"I am no longer deaf. I have a new set of ears: my beautiful black service dog," Evans said.
Aura is trained to alert Evans to many sounds, including doorbells, knocks at the door, text messages, alerts from the washing machine and microwave, when her husband calls her name, smoke alarms, and the approach of emergency vehicles.
"With a gentle nudge or clear eye contact, she alerts me," she explained. "In similar fashion, she alerts me to people or things approaching me from my back so that I am not startled, and when I have nightmares in my sleep, she performs nightmare interruption by waking me gently, either by a nudge or, when necessary, pulling my covers down."
Evans said Aura is happy to work and has developed a "sixth sense" about what Evans needs in different situations. They've had many adventures together, hiking mountains, traversing streams, paddleboarding, and training for marathons. Evans credits Aura as the "co-author" of her book Leading From the Front, and they've traveled nationwide for book signings and speaking engagements for topics like overcoming barriers and traumas in life and the importance of leadership and teamwork.
"Aura has brought me independence, joy, and a happiness I thought I might not ever have again," she said. "She inspires me to give my best to the world. I love her and she loves me. She saved my life! Not only in the tasks she performs for me to keep me safe, but in the endless love she gives me every day… I would trade my ears for her any day."
John Miller, President and CEO of America's VetDogs (as well as its sister organization, The Guide Dog Foundation), said Evans and Aura are a "tremendous team," and their success together has led to an expansion of the hearing assistance dog program.
"Gretchen is a powerhouse as a speaker," he said. "To have the rank in the military that she had, you can't be anything but, I would imagine. She has such a passion, and Aura has made such a difference in her life."
When Evans was preparing to speak about her experiences at an event at the stadium where the Baltimore Ravens play, the football team's mascot, Poe, started using a shrill whistling device. Miller witnessed Aura alert, thinking the noise was an alarm and trying to get Evans to safety.
"It was so impressive to see how Aura responded," he said. "It really showed how well-trained Aura was and how much Aura really cared for Gretchen."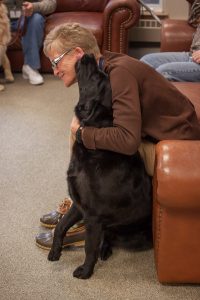 Miller said Labs are terrific service dogs because of their intelligence, temperament, and loyalty, which is why America's VetDogs and The Guide Dog Foundation train them so often. Because the organizations use positive training methods, it helps that Labs are so food-motivated as well. The nonprofits placed around 150 dogs in 2019, mostly Labs, golden retrievers, and crosses of the two breeds. He said the generosity of volunteers and donors makes it possible to breed, train, and provide lifetime support for each dog – and to donate them to military veterans.
Recently, America's VetDogs provided a second hearing service dog – a black Lab named Rusty – to Evans when Aura retired. In recognition of Aura's service, Evans nominated the dog for the 2020 American Humane Hero Dog Awards. At the time of writing, Aura had advanced to the semi-finals.
"I wanted to honor her for all she has done for me: her commitment to me, her unwavering devotion to duty, and her tireless dedication to her calling as a service dog," Evans said. "She is my hero."
America's VetDogs welcomes donations and volunteers, such as puppy raisers. For more information, please visit www.vetdogs.org.