Vol. 3 No. 6
Mar-Apr 2004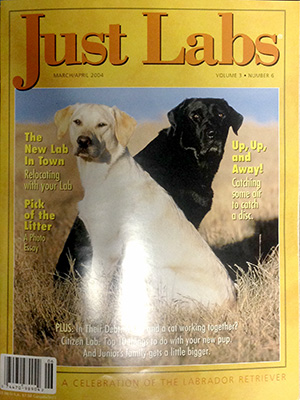 Features
The New Lab In Town by Jason Smith
Are you one of the millions of people relocating this year?
Here are some tips to make sure your Lab takes the transition in stride.
Pets and Disasters by Anita Biase 
Many things can displace a family from their home –
tornado, flood, wildfire. Don't be caught unprepared for your
Lab's needs in an emergency.
Pick of the Litter
A Photo Essay by Don Thomas 
The new pup comes home.
Up, Up, and Away! by James Keldsen 
Catching some air to catch a disc.
How to Create a Dog Lover in 90 Days
by Marcia Butikas 
How a Lab melted the heart of a non-dog person.
Could Your Lab Have Disc Disease?
by Valerie Wolf 
It might be more than a stiff neck.
Never Underestimate the Power of a Lab
by Ruth Placek 
A Lab mourns his boy.
Departments
Just Labs – Just for Kids by Tom Goldsmith 
Timber is back for another drawing lesson!
In Their Debt by Rebecca K. O'Connor 
You've heard of some Labs being able to live with a cat – maybe even
yours does. But we'll bet you've never heard of anything like this!
Citizen Lab by Amy Dahl 
A Top 10 Puppy List.
Why Labs Do That by Tom Davis 
How the nose knows.
The Vet Clinic by Dr. Jill Hyland Ayres & Dr. Rose Davidson 
A discussion of annual vaccinations.
Etcetera
"Find the Tennis Ball" Winners
Above & Beyond by Deputy Dieter Gallegos 
Hershey the home security system.
The World According to Junior by Junior Watson 
Junior's household gets a little more crowded.
Just Labs Seal of Approval
by Winston Morrow 
Subscriber Photos 
Buyer Beware by Betty Felton 
In Tribute 
Just How It Is   by Laurie Morrow