Bred for Service
Project2Heal breeds and nurtures Labs to donate to service dog organizations
By Jen Reeder
Charlie Petrizzo knows from personal experience how healing a Lab can be. When he was 16 years old, Petrizzo was hired to scrape paint off the roof of an old house as a summer job. An aluminum ladder he was holding became unwieldy and fell into telephone wires, jolting electricity through him and leaving him badly burned on most of his body, except his face.
"I have a divot in my head about half an inch deep where they had to take away the skull bone to heal the burns on my head," he shared.
After being released from the hospital two months later , Petrizzo was too self-conscious about his burns to go swimming with his friends – he didn't want to have to take off his shirt or hat in public. So he spent lots of time at home with the family's black Lab mix, Toby.
"We had gotten him about a year or so before I got hurt. He became my best friend and confidant," he recalled. "He was a part of my recovery – an emotional healing component."
Forty years later, when Petrizzo decided to leave the corporate world and focus on helping people, he wanted to do it in a way that involved dogs. He and his wife Sandy, also a dog lover, considered starting a service dog organization but realized there were already hundreds of worthy nonprofits. However, many of them were too small to be able to afford a breeding program or to purchase dogs from breeders.
In 2005, the couple decided to start breeding Labs to donate to service dog organizations that help burn victims, veterans with PTSD, and children with disabilities.
"What better dog than a Labrador retriever, right?" Petrizzo said with a chuckle.
But he's serious about the work of the nonprofit he and Sandy founded: Project2Heal. The organization takes a nature/nurture approach by carefully breeding Labs for health, intellect, and temperament, then nurturing them for their critical first 8-12 weeks of life. The idea is to boost success rates so that more service dogs in training graduate, therefore reducing waiting times for people in need.
Project2Heal is based in North Carolina on the couple's three-acre property. An indoor facility features a dedicated whelping room, puppy training and experience room, and staff office. Outside there's a kennel and play fields highlighted by a pond with a stream.
"We start training our puppies at two days of age with early neurological stimulation and scent introduction," he explained. "We start clicker training at about three weeks old, as soon as they can start hearing."
The Project2Heal team takes copious notes about each pup's reactions and development so that they can go to an organization where their skills and temperament will be the best fit. For instance, they'll gauge a puppy's reaction to having to walk through a maze or over obstacles to reach food, or to loud noises.
"If we drop a pot and it makes a crashing noise, do they run out of the room? Do they stop, look where it happened, and go toward it? Do they stop, look, and stay where they are? We have all kinds of things that we can qualitatively measure."
Once the Lab puppies are about four weeks old and walking, they participate in Project2Heal's free canine-assisted therapy and activity classes for children with special needs and their parents. At around eight weeks, the well-socialized pups are ready to head to service dog organizations, typically with obedience skills such as sit, down, and come.
"There's a lot of research that goes into the front end to produce great dogs, then the puppy development specialists and trainers take it from there," Petrizzo said. "We never waste a day in the life of a puppy."
Project2Heal donates Labs to around 15 nonprofits in different states, including North Carolina's Continuing the Mission, which provides service dogs at no cost to military veterans with PTSD and other disabilities.
Executive Director Suzy Lutz, who co-founded the group in 2016 with her husband after he retired from 30 years of service as an Army physician, said the organization wouldn't have had such a solid start without Project2Heal donating 10 "amazing" Labs to the program.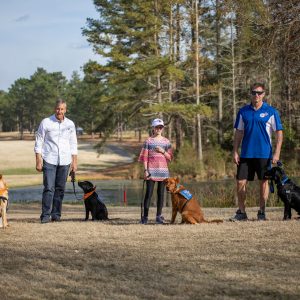 "I cannot say enough good things about Project2Heal because the quality of dogs that we're getting from them is just unreal," she said.
After graduating, the service dogs assist veterans in a variety of ways, such as blocking space between their handler and strangers in public places, or turning on lights to help their handlers recover from a nightmare. They can retrieve dropped items and offer distraction and comfort when their person feels anxious.
One reason why Labs work so well with the organization is they're athletic. Lutz said many veterans applying for a Continuing the Mission dog say they'd like to get back outside and feel safe hiking and enjoying the outdoors. Since Labs love to hike and swim, it's a natural fit.
While the primary role of service dogs at Continuing the Mission is to help veterans with PTSD feel safe, the main job of service dogs at another Project2Heal beneficiary, BluePath Service Dogs, is to keep children with autism safe.
Jody Sandler, DVM, president and CEO of the New York-based nonprofit that provides service dogs free of charge, said many children on the autism spectrum have "bolting" tendencies. So autism service dogs are trained to serve as anchors.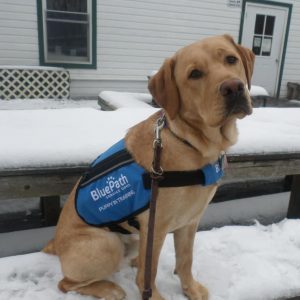 "The child wears a little belt and a tether to the dog's harness vest, and then walks along holding the handle of the vest," he explained. "If the child tries to drop the handle and tries to run, the dog is taught to sense that tension on the tether and either lie down as an anchor or brace himself to keep the child from running and give the parent a chance to react and bring the child back."
Autism service dogs can apply calming pressure when a child is feeling overstimulated or needs to relax enough to sleep through the night and provide social opportunities to interact with other children. Ultimately, the whole family gains more freedom to engage in their community by doing things many of us take for granted, such as shopping, dining out, or watching a sporting event, Sandler said.
Labs excel in the role because they're adaptable, confident, social, ready to work, and love to be touched. BluePath dogs also don't mind when kids play with their ears, touch their tails, or dress them up.
Sandler said it's impressive that Project2Heal is always working to improve their genetic line while also providing quality Labs to a diverse range of nonprofits.
"We're so proud and happy to be a partner with Project2Heal," he said. "They've done amazing work and continue to do so."
For more information about Project2Heal, visit: project2heal.org. For more information about Continuing the Mission, visit: continuingthemission.org. For more information about BluePath Service Dogs, visit: bluepathservicedogs.org.